Merish 4 MIDI File Backing Track Player
MERISH 4 MIDI FILE SOUND MODULE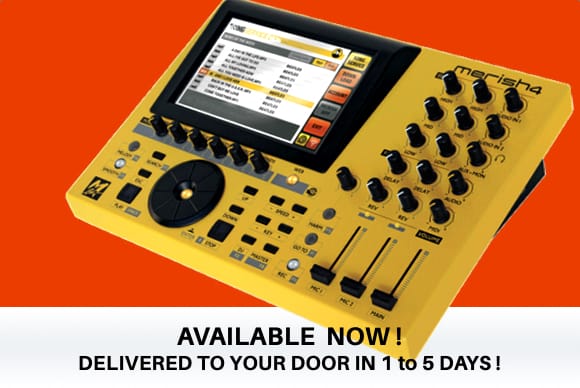 SAVE 12% OFF Suggested Selling Price
FREE Global Shipping during this offer
INCLUDES 1000 MIDI Files (onboard)
12 MONTHS Manufacturers Warranty
UPGRADED MEMORY - 128 GB
DELIVERED TO YOUR DOOR 1 TO 5 Days
DETAILS
MERISH 4 MIDI FILE SOUND MODULE - Quite simply the most advanced backing track player in its class. MERISH 4 is the perfect 'backing band' for solo performers, duo's, trios and bands with a drummer. Play, edit, transpose and tempo change MIDI Files, MP3 files, record your performance, enhance vocals with the 3 voice harmonizer and auto tune your voice using the MIDI Voice Tracker! Now online - LEARN MERISH 4 in 60 Seconds Video Series
MERISH 4 is a backing track player designed for 'ALL' musicians. Solo performers, duo's and trio's using backing tracks can perform and 'react' like a live band! Live bands can 'beef up' their sound by using Merish 4's instrument group control to mute out parts played by the live band and keep brass sections, orchestra and keyboard parts. All this without even editing the backing tracks. Merish 4 even has a click out with count in to make it really easy for drummers to sync in.
WATCH MERISH 4 IN ACTION !
MERISH 4 FEATURES
Merish 4 backing track GIG workstation with 15cm x 9.5cm touch screen and mixer. Merish 4 supports MIDI Files, Mp3 and Mp4 Video with text. Merish 4 includes a powerful digital mixer with 2 mic inputs and effects, harmonizer/voice double tracker and equalizer. Other great features include Audio Recorder, Midi File Editor, expander keyboard or other peripherals. The onboard MIDI sound engine 386 sounds, 46 Drum kits with 480 samples.
HOW TO ACHIEVE OPTIMUM SOUND FROM MERISH 4
Set Backing Tracks, Guitar and Mic levels for typical solo/duo performing act.
Turn MIDI, AUDIO knobs to OFF (all the way left) 


Set MIC 1, MIC 2 sliders to OFF (all the way down)


On the rear panel, turn both GAIN knobs to OFF (all the way left)


Connect Mic to MIC 1 and sing into mic. Slowly turn up MIC 1 GAIN knob on the rear panel and watch the GREEN LED light above MIC 1 slider (under the REV knob).  Start singing at your loudest voice level and stop turning the GAIN knob when the LED enters RED. Now sing at normal voice level and the LED should remain in the GREEN zone and occasional Yellow. This is the ideal input level.


Repeat the same method as above for MIC2 with your guitar ensuring maximum level does not trip into RED

NOW, WE SET THE OUTPUT LEVEL


Set your PA at stage volume level
Set the MAIN slider on MERISH 4 so the top of the slider rests the 4th bar from the top (about 85% up). 
Slowly raise the MIC 1 slider until level is satisfactory. Avoid feedback
Repeat step 8 with your acoustic guitar
Play a MIDI File and slowly turn up the MIDI knob until level is satisfactory
Repeat step 8 with an MP3 backing track using the AUDIO knob if you use MP3
This method should provide the optimum sound from your MERISH 4. It's okay to experiment a bit with the OUTPUT levels to get a mix that suits your particular act. The INPUT levels should be adhered to.
ACCESSORIES

M-PEN
* M-Pen is not included with export models. All M-Pen functions can be achieved in exact by connecting a standard USB cable between Merish 4 and a computer. This results in a substantially lower price on Merish 4 with no loss of performance. There is also the matter of service and support for M-Pen which this distributor is unable to provide due to the proprietary design of the attachment. Therefore in the best interests of our customers, we made the decision to omit M-Pen from export models.
PURCHASE & RETURN POLICY/CONDITIONS
* BUYERS OUTSIDE AUSTRALIA: : In most instances, no duties, customs fees or additional delivery fees will apply to your purchase however please be aware that on occasion and completely beyond our control, duty, customs fee or delivery fee may be charged to the buyer by relevant authorities and courier service. Hit Trax cannot be held responsible or liable for these costs. Buyers accept full responsibility for fees charged over the stated price on this product page.
Merish 4 has a 7 day at home satisfaction period. If not satisfied and you wish to return the device, the following conditions apply. Please note before purchasing this item that all points below must be satisfied by the seller for a refund to be effected.
Seven day period begins from the day the item is received by the buyer.
Buyer must inform Hit Trax of intent to return item before sending.
Buyer must receive a support member response (not an automated 'receipt of e-mail notification) which includes the return process details and a return authorization number. Hit Trax will provide return details within 3 working days.
Buyer must not initiate a charge back or payment dispute during the return process.
The item, including outer and inner box and inclusions (including but not limited to user manuals, power supply and leads) must be returned in 100% original and new condition. These items must be in the box.

If any item is found to have wear or damage, no refund will apply.
If any of the song files on Merish 4 have been copied (the device will flag any copying), or deleted from the device, the refund will be cancelled. Do not return if you have copied or deleted any of the 1000 songs off the Merish 4. We will not refund if the songs have been copied or deleted.
The documentation MUST state the item is being returned for a refund and cancellation of sale (do not state the value of the refund)
You must pack the item carefully and ensure there are no moving objects such as the power supply and loose objects that can damage the screen if not secured. The cost of parts and labour to fix and replace damage from moving parts will be deducted in full from a refund.
Send the parcel to:
Hit Trax
PO Box 6090
Vermont South 3133 VIC
AUSTRALIA