Soundcraft EPM 8 Band Stage Mixer
Plus $120.00 for shipping.
Soundcraft EPM 8 Stage Mixer (unpowered)
BRAND NEW never used CLEARANCE SALE !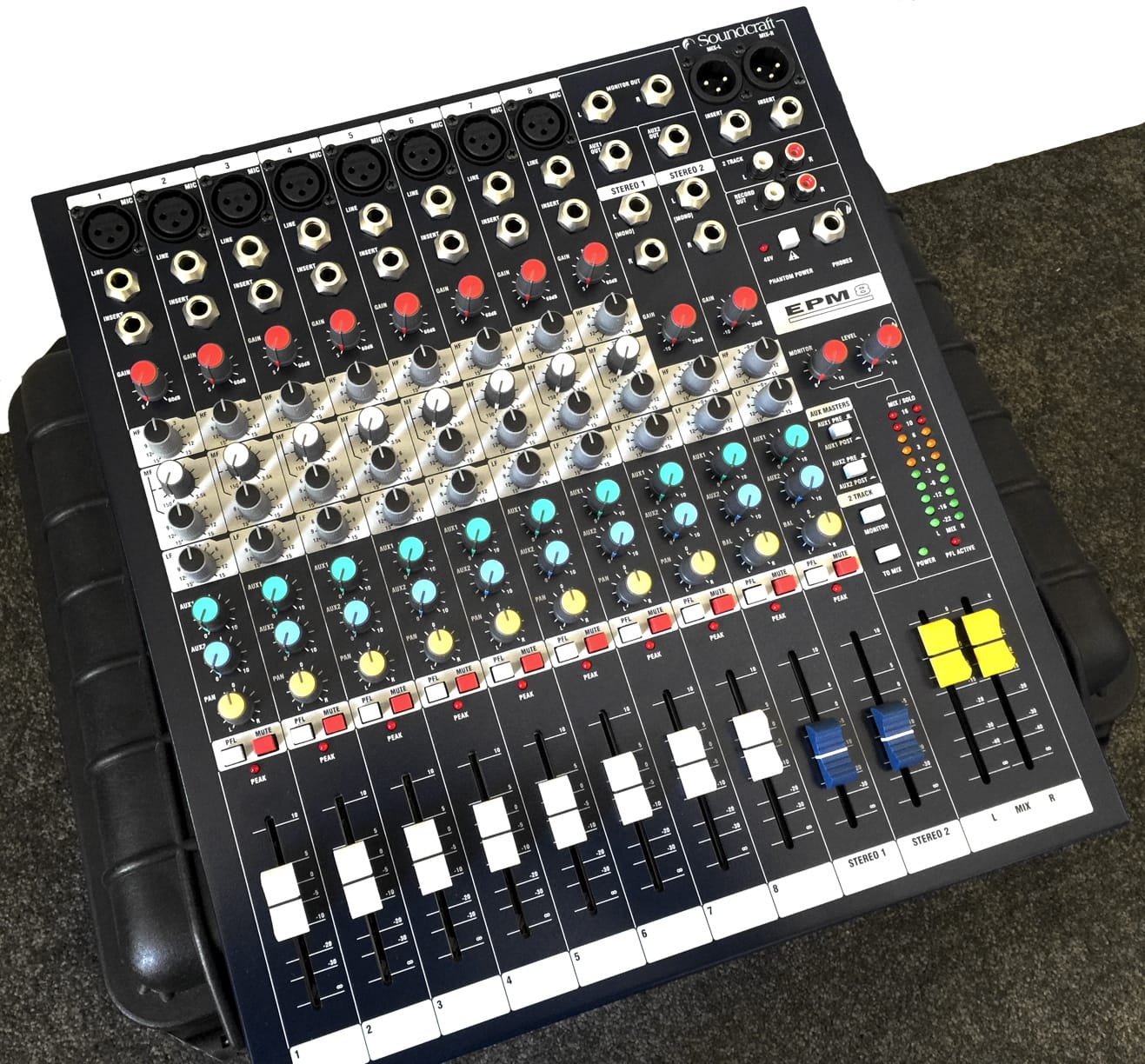 The Soundcraft EPM 8 is a simple, easy-to-use stage mixer that delivers an exceptional audio performance. Features 8 channels
Soundcraft EPM8 Mixer F~E~A~T~U~R~E~S
Quality audio performance with premium preamps
Balanced inputs with inserts
Unique Peak LEDs monitor the entire signal path
Quality audio performance with premium preamps
The emphasis with the Soundcraft EPM Series is very firmly on quality audio performance, with an easy-to-understand control surface uncluttered by unnecessary features. The EPM8 features Soundcraft's premium GB30 mic preamp (as used on the large-format LX7ii and GB Series desks) to provide high headroom and
precision control of mic signals.
Balanced inputs with inserts
Mic and line inputs are provided on balanced XLR and 1/4" jack connectors, with the main stereo outputs on balanced XLRs for best integration with other professional equipment. There are also insert points on every mono channel and the mix outputs for external signal processing.
Unique Peak LEDs monitor the entire signal path
Because levels are constantly changing throughout the signal path - from the preamp stage, through filtering and EQ - the EPM mixers provide peak LEDs on all input channels. These monitoring LEDs are fed from multiple points in the signal path to ensure nothing is overlooked. The LEDs also employ proportional illumination to show signal level when approaching peaks, allowing you to maximize the quality of any signal by utilizing all the available headroom. The main stereo mix has 10-segment LED meters, with a PFL Active
indicator to show whether any channels are being soloed.
Soundcraft EPM8 Mixer Features:
Eight mic/line inputs plus two stereo line ins
Two configurable auxiliary buses
XLR-type and 1/4" metal jack connector sockets
RCA phono stereo playback inputs and record outputs
3-band EQ with a swept mid on mono inputs
2-band EQ on stereo inputs
TRS insert sockets and inserts on all mono inputs and mix output
10-segment LED output metering
Intuitive and comprehensive solo system
Headphone output
Easily rackmountable with optional kit
3.56"(H) x 14.25"(D) x 13.0"(W)